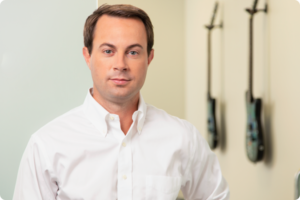 David Crenshaw, CPA, JD
Chief Financial Officer & Corporate Secretary
David Crenshaw serves as the Chief Financial Officer and Corporate Secretary of Confirmation. A mergers and acquisitions attorney and certified public accountant by training, David oversees the accounting, finance, and legal divisions of the company.
Prior to joining Confirmation, David practiced corporate law at Nashville-based Sherrard Roe Voigt & Harbison, PLC, specializing in complex acquisitions, equity and debt financings, securities law, and corporate governance matters. Il a régulièrement représenté des clients de fonds propres privés et en matière de capital-risque lors de plusieurs transactions commerciales, stratégies d'investissement, sociétés communes à plusieurs entreprises, et d'autres alternatives stratégiques.
Avant d'exercer la profession d'avocat, David a été expert-comptable au sein du cabinet Ernst & Young, LLP, où il a réalisé des audits et donné des consultations juridiques en matière de transactions pour des clients appartenant à la liste Fortune 500, entreprises dont les sièges se trouvent dans le Tennessee.
David possède un doctorat en droit de la Vanderbilt University et un master de comptabilité délivré par l'université du Tennessee.